The Eighth Advanced International Conference
on Telecommunications

AICT 2012

May 27 - June 1, 2012 - Stuttgart, Germany
Germany

General

General (+ interactive map)

General (electricity, climate, driving, etc.)

Stuttgart

How to get to Stuttgart

Images from Stuttgart

Stuttgart transportation

Stuttgart transportation map


Conference Hotel

Mercure Hotel Stuttgart City Center
Heilbronner Str. 88
70191 - STUTTGART
Phone: (+49)711/255580
Fax: (+49)711/25558100
http://www.mercure.com/gb/hotel-5424-mercure-hotel-stuttgart-city-center/index.shtml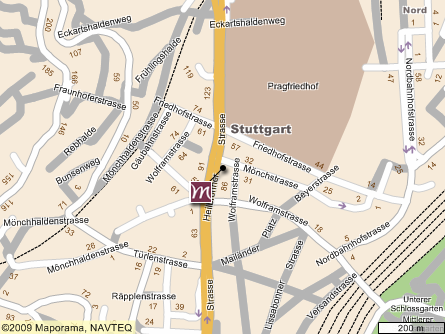 The Mercure Hotel Stuttgart City Center is just a few minutes from the city center and main train station.
The nearest bus and U-Bahn station, Türlenstrasse, is a 275-yard (250 m) walk away.
You can also reach the hotel via the A81 highway just 3.1 miles (5 km) away.
Visit the nearby NeckarPark, Wilhelma Zoo or Mercedes museum.
OutletCity Metzingen, just 40 minutes away, is also well worth a visit.
Transport services close to the hotel


Line
Station
Underground station
S2, S3
HAUPTBAHNHOF
U5, U6
TUERLENSTRASSE
Railway Station
STUTTGART (0.80 km / 0.50 mi)
Airport
STUTTGART AIRPORT (15.00 km / 9.32 mi)