The Eighth Advanced International Conference
on Telecommunications

AICT 2012

May 27 - June 1, 2012 - Stuttgart, Germany
Conference Hotel

Mercure Hotel Stuttgart City Center
Heilbronner Str. 88
70191 - STUTTGART
Phone: (+49)711/255580
Fax: (+49)711/25558100
http://www.mercure.com/gb/hotel-5424-mercure-hotel-stuttgart-city-center/index.shtml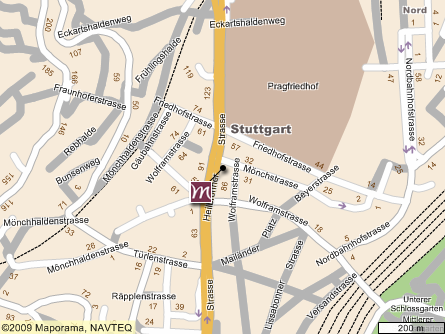 The Mercure Hotel Stuttgart City Center is just a few minutes from the city center and main train station.
The nearest bus and U-Bahn station, Türlenstrasse, is a 275-yard (250 m) walk away.
You can also reach the hotel via the A81 highway just 3.1 miles (5 km) away.
Visit the nearby NeckarPark, Wilhelma Zoo or Mercedes museum.
OutletCity Metzingen, just 40 minutes away, is also well worth a visit.
Transport services close to the hotel


Line
Station
Underground station
S2, S3
HAUPTBAHNHOF
U5, U6
TUERLENSTRASSE
Railway Station
STUTTGART (0.80 km / 0.50 mi)
Airport
STUTTGART AIRPORT (15.00 km / 9.32 mi)
General Information
Internet and sessions
Free IEEE 802.11b wireless Internet access will be provided during the conference, in the conference area only.
Currency
The currency is the Euro.
Most banks and bank machines accept most international credit cards.
Weather
The air temperature by the end of May, is between 16°C and 23°C (61F - 73F)
What are the entry visa requirements?
Germany is a Schengen visa country; see http://www.schengenvisa.cc/
Please, check with the closest Germany Embassy or any other Schengen country.
IARIA legal and logistics teams can issue, upon request, the support letters for entry visa for those registered to the conference.