The First International Conference on Advanced Collaborative Networks, Systems and Applications

COLLA 2011

June 19-24, 2011 - Luxembourg
Conferece Location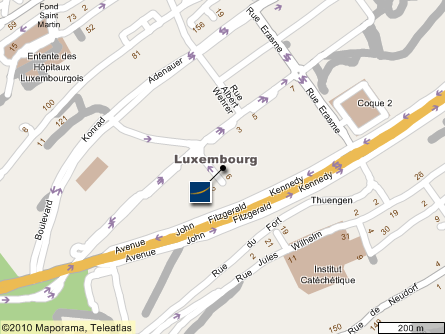 Novotel Luxembourg Kirchberg
http://www.accorhotels.com/gb/hotel-1930-novotel-luxembourg-kirchberg/index.shtml

Hotel address
6 rue Fort Niedergrünewald
Quartier Européen Nord
Plateau de Kirchberg
L-2226 LUXEMBOURG
LUXEMBOURG
How to reach the hotel?
As you approach the city via A1(E29, E44) from the south, the east or the north or the west via A6(E25) or from the centre of town, follow signs (Plateau de)"Kirchberg" and "Quartier Européen Nord".
Accessible by public transportation
Bus

Eurobus line: Mudam SDC Station
13 line: Ave JK Kennedy Station

Railway Station

LUXEMBOURG-VILLE (5.00 km / 3.11 mi)

Airport

LUXEMBOURG FINDEL (7.00 km / 4.35 mi)

Highway exit

EXIT 8 - KIRCHBERG (3.00 km / 1.86 mi)
Internet and sessions
Free IEEE 802.11b wireless Internet access will be provided during the conference, in the conference area only.
Currency
The currency is the Euro.
Most banks and bank machines accept most international credit cards.
Weather
The temperature is pleasant all over the year, the air temperature between 23°C and 32°C during this period (73F - 90F)
What are the entry visa requirements?
Luxembourg is a Schengen visa country; see http://www.schengenvisa.cc/
Please, check with the closest Luxembourg Embassy or any other Schengen country.
IARIA legal and logistics teams can issue, upon request, the entry visa letters for those registered to the conference.