The Fourth International Conference on Mobile Ubiquitous Computing, Systems, Services and Technologies

UBICOMM 2010

October 25 - 30, 2010 - Florence, Italy
The conference takes place at
"Hotel Novotel Firenze Nord Aeroporto"
http://www.novotel.com/gb/hotel-1798-novotel-firenze-nord-aeroporto/index.shtml
Via Tevere 23
Osmannoro
50019 FIRENZE SESTO FIORENTINO
ITALY
Tel (+39) 055/53821
Fax (+39) 055/308336
Map
Directions
The hotel boasts a strategic position 300 m from the highway.
Free shuttle from the airport. The shuttle schedule is 9.15 am - 10.15 am 11.15 am 5.45 pm 6.45 pm 8.15 pm. Shuttle contact information:
Maria Avagliano
Ufficio Congressi
Novotel Firenze Nord
23, Via Tevere
50019 Sesto Fiorentino (Fi)

Tel            +39 (055) 53821 NEW!!!
Fax            +39 (055) 308336
Tel Diretto +39 (055) 5382.926/929 - 308722
Fax Diretto +39 (055) 3029708
The hotel is easily accessible via the A1 (E35) exit for Firenze Nord
Via the A11 (E76) exit for Firenze Ovest
Via the Tangenziale (ring road) exit for Sesto Fiorentino and Osmannoro
The historic city centre and railway station of Florence (Firenze) are all within reach thanks to
the free hotel shuttle service (available on request) or
by taxi or
by public transport (lines No.29 and 30)
Airport: AMERIGO VESPUCCI
Railway Station: SANTA MARIA NOVELLA
Additional information regarding travel to Florence:
By Car
The "Autostrada Del Sole" Highway (A1) connects Florence both with southern and northern Italy. We suggest the exit "Firenze Sud" for those coming from Rome; "Firenze Nord" for those coming from Milan, Bologna, Venice.
By Train
Florence Santa Maria Novella (S.M.N.) station is on the major Italian North-South train route.
High speed trains running between Milan and Rome stop in Florence. Eurocity and night trains connect directly Florence to several European cities (Paris, Geneve, Zurich, Wien, Munich,...)
Please consult the on-line FS timetable for update information on train departures and arrivals.
By Plane
Florence (Amerigo Vespucci) airport is at Peretola, approximately 5 km West of Florence.
- Direct flights (international, no charters) operate from: Amsterdam, Barcelona, Brussels, London Gatwick, Lugano, Munich, Nice, Paris CDG and Vienna.
- To reach the centre/main station from the airport if you don't want to use taxi, you can get the VOLA in BUS airport shuttle (4 Euro).
For international flights consider also the use of Pisa and Rome International airports.
Pisa (Galileo Galilei) airport is some 80 km West of Florence.
- Direct flights (international): Barcelona, London Gatwick, Munich, Paris; Charter flights: London Gatwick, Manchester, Paris Orly.
- Connections to Florence central railway station Santa Maria Novella: direct train from Pisa airport every two hours, approximately (journey time of about 1 hour) or local city transport bus to Pisa central railway station, where there are more frequent trains to Florence Santa Maria Novella.
Rome inter-continental Fiumicino airport, served by all major airlines with flights from all over the world, is connected with a non-stop train every hour to the main Rome railway station (Termini), which is reached in half an hour. More often than every hour a high speed train leaves Rome Termini to Florence Santa Maria Novella, which is reached in about 100 minutes. Most of these trains require to be reserved in advance. Consult the FS web pages for connections and information.
Currency
Euro
http://www.wordtravels.com/Travelguide/Countries/Italy/Currency
Electricity plug
http://goitaly.about.com/od/travelpackingtips/l/bl_electricity_italy.htm
Electricity in Italy, as in the rest of Europe, comes out of the wall socket at 220 volts alternating at a 50 cycles per second. In the US, electricity comes out of the wall socket at 110 volts, alternating at 60 cycles per second. Not only the voltages and frequencies, but the sockets themselves are different.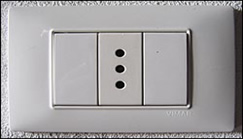 This plug adapter is all you need to convert the US rectangular pronged plug to the round prong Italian power plug used in most Italian homes and hotels. This adapter is ungrounded, which is why it doesn't have a third, center prong. This is fine for devices which are insulated (having a plastic body, for instance).
Entry Visa
A Shengen Visa is valid for Italy
For details, please contact the closest Embassy/Consulate General of Italy.