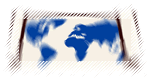 Workgroup Meeting, February 2nd, 2009 - Cancun, Mexico
17:30 - 19:00
Attendance: 30
Agenda:
Suggestions:
It was question of well-differentiating and defining the tracks, eventually expanding the spectrum
Apart variants on how to cluster the topics, it was observed that the acceptance was border than the GEO+WS; as for the first event in the series, this was not lowering the interest, but the next event should embrace more explicit topics to comply with the spectrum of accepted submission.
Many direct and on-line suggestions were received from Claus-Peter Rückermann, Rifaat Abdalla, David Valentine, Victor Lobo, Bernd Resch, Alenka Krek, Bastian Scäffer, Patrick Maué, and others.
Suggestions are welcome to petre@iaria.org
One suggestion on the table is to have GEO-Computation, thus covering a larger spectrum (Calus-Peter), covering environmental planning (Alenka), or, the opposite, restricting to WS (Victor), and cluster the current topics by dropping a few and adding some others (Bernd).
Rifaat also hinted to an extension; he is also going to report on GEOWS 2009 in the The International Journal OF Applied Earth Observation and Geoinformation.
Next steps:
Develop a new version of the GEO-event
Extend invitations for Advisory Board to covert more topics
Enhance relationships with other GEO-associations and departments
Extend invitations to committee membership
GEO event 2010:
Announce the new topics with the CfP for GEO-2010
Location: yet to be defined, most probably in Caribbean area, February-March 2010
Under Digital World 2010